Il Cinema Ritrovato is over… but it goes on!
Even if Il Cinema Ritrovato 2022 has officially closed on July, 3rd on the musics of The Blues Brothers, the festival actually continues: from 4th to 10th of July, we will be able to watch some of the festival films in the most beautiful cinema theatre in the world… Piazza Maggiore!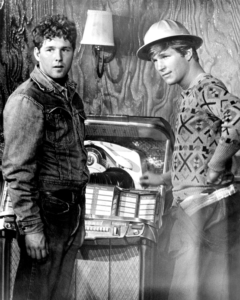 On Monday, July 4th we'll watch The Last Picture Show by Peter Bogdanovich. A small town somewhere in America, a cinema about to close down, a static youth blown apart by the Korean War: The Last Picture Show is a nostalgic and painful masterpiece, a love letter to classic cinema made by the biggest cinephile of all the New Hollywood directors, Peter Bogdanovich. He passed away a few months ago and will be remembered on the stage of Piazza Maggiore by a very special guest, Wes Anderson, another director whose films deal with nostalgia and who holds great knowledge and esteem for the films of Bogdanovich. The director of The Royal Tenenbaums and Grand Budapest Hotel will introduce the new Sony Pictures Entertainment 4K restoration of the film, which has brought back all the original charm of its dazzling black and white cinematography.
On Tuesday, 5th John Landis will be in Piazza Maggiore againt introducing Trading Places. Like The Blues Brothers, this is one of those films that nobody can say they haven't seen at least once. But every time you see it (especially at the cinema) you still get all the fun and enjoyment unleashed by its perfectly tuned comic mechanisms. For John Landis's second appearance in Piazza Maggiore, we couldn't but choose this huge 1980s' cult film, a modern fairytale that takes its premise from Mark Twain's The Prince and the Pauper, in which two mean old capitalists decide, for a bet, to switch the lives of a young and upwardly-mobile broker (Dan Aykroyd) with that of a poor street hustler (Eddie Murphy, in the role that launched his career). We will be screening the recent 4K version from Paramount Pictures, restored under the supervision of the director.
On Wednesday, July 6th we'll see Topkapi by Jules Dassin, in the splendid 35mm restored version by the Film Foundation, curated by Christopher Nolan. On July, 7th Two episodes directed by De Sica (La riffa from Boccaccio '70, and Mara from Ieri, oggi, domani), introduced by journalist Vincenzo Mollica, will bring the festival's homage to diva Sophia Loren to a close. On July, 8th Le Samouraï, a metaphysical polar from the master of the genre, Jean-Pierre Melville, with the "baby-faced" killer Alain Delon. George Stevens' grandiose American fresco, Giant, where every appearance of James Dean instantly became mythical, will be in Piazza Maggiore on July, 9th. Finally, The Last Waltz, the monumental concert film directed by Martin Scorsese as if it were a blockbuster movie, will close Il Cinema Ritrovato programme in Piazza Maggiore.