Il Cinema Ritrovato Book Fair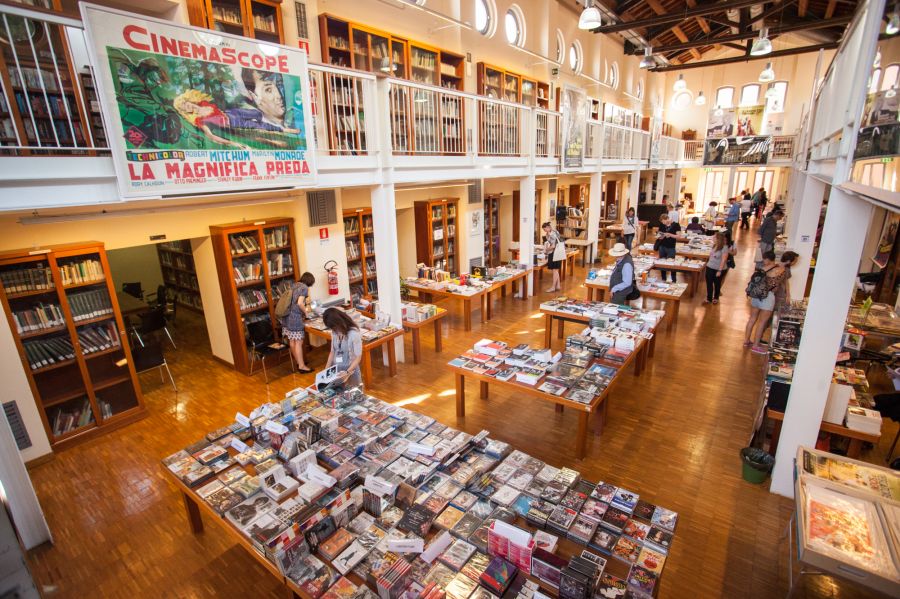 2022 EDITION:

from June 24th to July 1st: 9AM – 6.30 PM
July 2nd: 9.30AM-1PM and 3PM-6.30PM
July 3rd: 9.30AM-3PM
Inside the Renzo Renzi Library, free entry.
Born in 2003 within the Festival Il Cinema Ritrovato, the Book Fair has had a continuous development throughout the years, becoming one of the best opportunities to seek publications from the film industry from all over the world here in Italy.
During its early years the event has hosted outside store outlets almost exclusively. However, since 2014 the Cineteca di Bologna has decided to adopt a new approach and a more ambitious objective by contacting dozens of publishers and distributors directly.
This has resulted in having both books and DVDs on sale from one hundred different prestigious publishing companies, for a total of over 1000 titles.
The Fair takes place in the beautiful setting of the Renzo Renzi Library, where the Hospitality Office for the Festival is also located, and is divided in three macro areas: Film Archives, book publishers and DVD / Blu-Ray publishers.
A rich showcase of film publications
The event is mainly for a specialized audience, those who attend Il Cinema Ritrovato, but also for amateurs in love with cinema who can certainly find something interesting thanks to the wide variety of titles.
During the most recent editions the Fair has given special attention to the volumes dedicated to Cinema Studies, published by the most renowned universities in the U.S.A.
Furthermore, a third of the space is occupied by independent stores which propose alternative offerings of rare books, vintage graphic material, new and used DVDs. For its part, the Cineteca di Bologna offers a wide selection of its own published titles, books and box-sets to its visitors, adding each year the latest releases hot off the press.
As always of course a large selection of vintage books, gadgets and posters / placards are also available.
From this year, the ranks of exhibitors will be enriched by CAM Sugar, an important film music label with a catalogue of over 2,000 original soundtracks and a roster of 400 composers of Italian and French film music. Their artisan restorations of sound and graphic design are featured in new CD and vinyl releases distributed throughout the world by Decca Records.
---
Contact information
bookfair@cineteca.bologna.it
tel. +39 051 219 4846