Il Cinema Ritrovato Dvd Awards: the winners!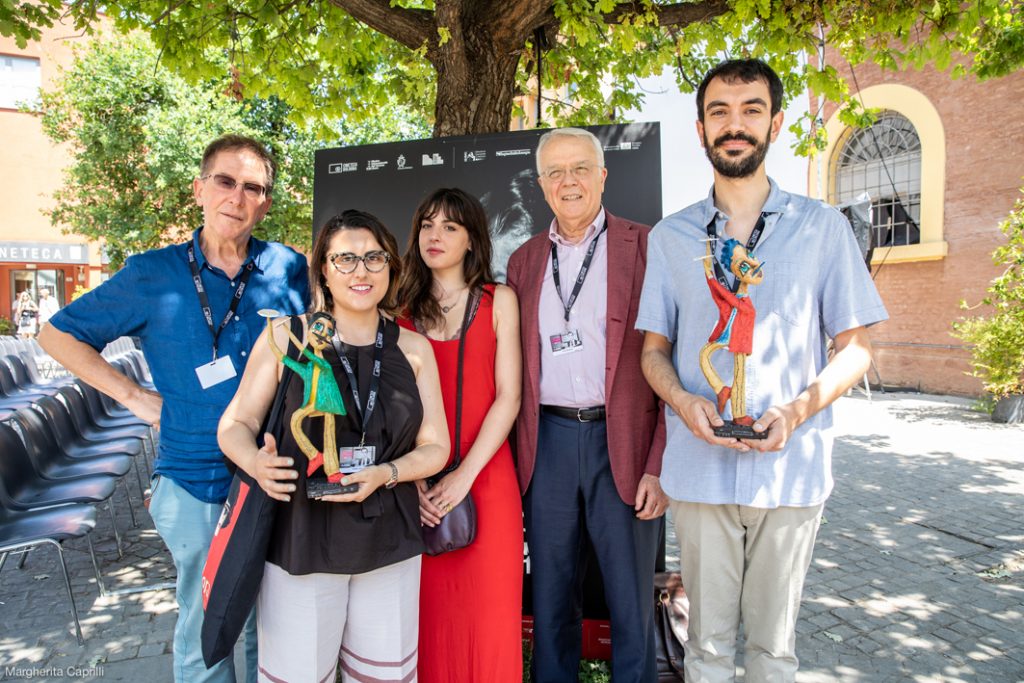 The award aims to encourage and give visibility to quality home entertainment Dvd and Blu-Ray from around the world. The competition is open to Dvd and Blu-ray released between February 2018 and February 2019 of important films made before 1989 (at least thirty years ago) and thus generally in line with the festival's theme. The awards are divided into five categories: Best Dvd/Blu-ray (The Peter Von Bagh Award), Best Single Release, Best Special Features (bonus), Best Rediscovery of a Forgotten Film, Best Series/Best Box.
Paolo Mereghetti and Gian Luca Farinelli, director of Cineteca di Bologna, pre-selected 30 finalists. The new jury, composed of Lorenzo Codelli, Philippe Garnier, Pamela Hutchinson, Miguel Marías, Shivendra Singh Dungarpur chaired by Paolo Mereghetti, will assign the DVD Awards. The award ceremony will take place during the festival.
Best Special Features
GIORNATA NERA PER L'ARIETE (Italy, 1971) by Luigi Bazzoni – Arrow Films (blu-ray)
LA DONNA DEL LAGO (Italy, 1965) by Luigi Bazzoni, Franco Rossellini – Arrow Films (blu-ray)
Arrow Films gives its best treatment to two Italian 'gialli', both forgotten exactly like their auteurs: LA DONNA DEL LAGO (1965) by Luigi Bazzoni and Franco Rossellini and
GIORNATA NERA PER L'ARIETE (1971) di Luigi Bazzoni. Restored in 2K and enriched by a smorgasbord of bonus, commentaries, interviews, while using a methodic approach rarely attempted in the country which once upon a time exported genre films all over the world.(Lorenzo Codelli)
THE MAN WHO CHEATED HIMSELF (USA, 1950) by Felix E. Feist – Flicker Alley/Film Noir Foundation/UCLA (blu-ray + dvd)
The Film Noir Foundation gives its usual treatment to another underestimated gem from a lost genre. This time directed by an auteur being rediscovered this week by Il Cinema Ritrovato:
THE MAN WHO CHEATED HIMSELF (1950) by Felix E. Feist. Among the Blu-ray's countless bonus features, the detailed searches for each locations' past, present, and 'soul', are fascinating.
(Lorenzo Codelli)
Best Box Set
INGMAR BERGMAN'S CINEMA (Sweden, 1946-2003) – Criterion Collection (blu-ray)
The most obvious choice of this year, but what's not to like in this hefty box of a heavyweight of cinema? A 37-film survey spanning Bergman's entire career, 30 Blu-ray disks, 2 feature-length documentaries, over 5 hours of interviews of Bergman and his collaborators, plus a 248-page book…The quality, and above all the variety of the bonus material makes this box a keeper in any library.
(Philippe Garnier)
Best Rediscovery of a Forgotten Film
PIONEERS: FIRST WOMEN FILMMAKERS (USA, 1911-1929) – Kino Lorber (blu-ray)
This impeccably curated box set rediscovers not just a film, but a whole generation of filmmakers whose work has been overlooked. Films by relatively familiar names such as Alice Guy, Mabel Normand, Alla Nazimova and Lois Weber, which have been hard to find for decades, are now finally available on Blu-ray with fresh scores, notes and commentaries. And happily, they are supported by films from those directors' lesser-sung peers, including Ida May Park, Cleo Madison and Marion E Wong. The special features go a long way to putting these filmmakers back in their proper context – at the heart of the silent era.
(Pamela Hutchinson)
Best Single Film Release
DÉMANTY NOCI / DIAMONDS OF THE NIGHT (Czechoslovakia, 1964) by Jan Němec – Second Run (blu-ray)
I was very impressed by Second Run's Blu-Ray edition of Jan Nemec's masterpiece and debut feature film Diamonds of the Night, that has the unforgettable single long tracking opening sequence. The entire presentation including the special features, like Nemec's debut short film Loaf of Bread and the booklet, gave the film a context and an understanding of this remarkable filmmaker of the Czech New Wave.
(Shivendra Singh Dungapur)
VIDA EN SOMBRAS (Spain, 1948-1953) by Llorenç Llobet Gràcia – Filmoteca de Catalunya/Intermedio (dvd)
A unique, unsuspected, almost 'New Wave' film in the Spanish Cinema of the 40s. It is practically the autobiography of a cinephile who was already a Hitchcock fan in 1947.
(Miguel Marías)
The Peter von Bagh Award
NON CONTATE SU DI NOI (Italy, 1978) by Sergio Nuti – Penny Video/Cineteca Nazionale/Cineploit (blu-ray + dvd).
Among the many qualities of Peter Von Bagh there was certainly curiosity, the desire to discover little to unknown films, to take the adventurous and unusual path. Because of this, we decided to give this award to an "unknown" film: Don't Count on Us by Sergio Nuti. Don't Count on Us was released in 1978 and tells the story of a young musician and a drug addicted girl, giving way to a love story that intertwines with the drama related to drugs. It immediately disappeared from theaters because it is an unusual and painful film set about the Primavalle neighborhood that was far from the reassuring logic that then dominated Italian cinema. Today, the story finally returns, restored by the Centro Sperimentale di Cinematografia – Cineteca Nazione in collaboration with Penny Video.
(Paolo Mereghetti)
PERSONAL CHOICES
Lorenzo Codelli
WOODFALL: A REVOLUTION IN BRITISH CINEMA (UK, 1959-1965) by Tony Richardson, Karel Reisz, Richard Lester, Desmond Davis – BFI (blu-ray)
An extraordinary slice of film history is captured as a whole by this boxset. Not to be missed another Woodfall treat also made by BFI: RED, WHITE AND ZERO, directed by Peter Brook, Lindsay Anderson and Tony Richardson.
Shivendra Singh Dungapur
ČERNÝ PETR (Czechoslovakia, 1963) by Miloš Forman – Národní filmový archiv (blu-ray)
PRÍPAD BARNABÁŠ KOS (Czechoslovakia, 1964) by Peter Solan – Slovenský filmový ústav (blu-ray)
Its a very well brought out Blue Ray with Special features as people for the first time internationally will get to know the work of this great Slovakian Film maker Peter Solan.
Philippe Garnier
JARMAN VOL.1: 1972-1986 (UK, 1972-1986) by Derek Jarman – BFI (blu-ray)
Exactly what a well-conceived 5-disk video box can achieve for a viewer: immersing them in the world and work of an artist whose films they barely ever watched, and probably won't again. But, in meeting this 50-year old punkette or this production designer or choreographer you get to understand Jarman's system, who always found a way, but above all a specific place, to shoot this or that project. I can't wait for volume 2.
Pamela Hutchinson
MAY ZETTERLING: COMPLETE FILMWORKS (Sweden, 1964-1986) – Studio S Entertainment (dvd)
A revelatory collection of work by a brilliant feminist filmmaker.
Miguel Marías
L'ENFANT SECRET (France, 1979) by Philippe Garrel – RE:VOIR (blu-ray + dvd)
A great turning point in Garrel's career, and one of the best transfers in black and white.
Paolo Mereghetti
SAMUEL FULLER AT COLUMBIA, 1937-1961 (USA, 1937-1961) – Powerhouse Films (blu-ray)
Powerhouse Film collected seven films made by Fuller when he was under contract at Columbia in a nice Blu-ray box set. Inside there are some of his extraordinary directional works like The Crimson Kimono and Underworld USA as well as the films in which he collaborated as a screenwriter like the well-known Shockproof by Douglas Sirk or less seen films like It Happened in Hollywood by Harry Lachman, Power of the Press by Lews Lenders or Adventure in Sahara by Ross Ledermann. To compliment the films, there are rich extra materials, including some interesting interviews with Fuller and a critical intervention by Martin Scorsese.