What ever happened to Alien and Baby Jane?
All'uscita della sala abbiamo chiesto al pubblico un parere sui film cult in programmazione serale al Cinema Arlecchino. Scopriteli nelle clip!
*****
Abbiamo chiesto agli spettatori di Alien quale fosse la scena più impressionante del film e agli appassionati di What ever happened to Baby Jane? (Che fine ha fatto Baby Jane?) di schierarsi dalla parte di Bette o di Joan e motivare la loro scelta.
Ecco il risultato: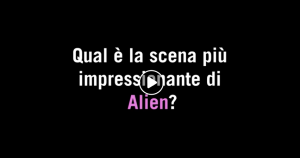 I video sono stati realizzati nell'ambito del Corso di Alta Formazione per redattore multimediale e crossmediale, organizzato dalla Cineteca di Bologna con il sostegno della Regione Emilia-Romagna e il Fondo Sociale Europeo.
Ringraziamo tutti coloro che hanno partecipato alla realizzazione di questo video.