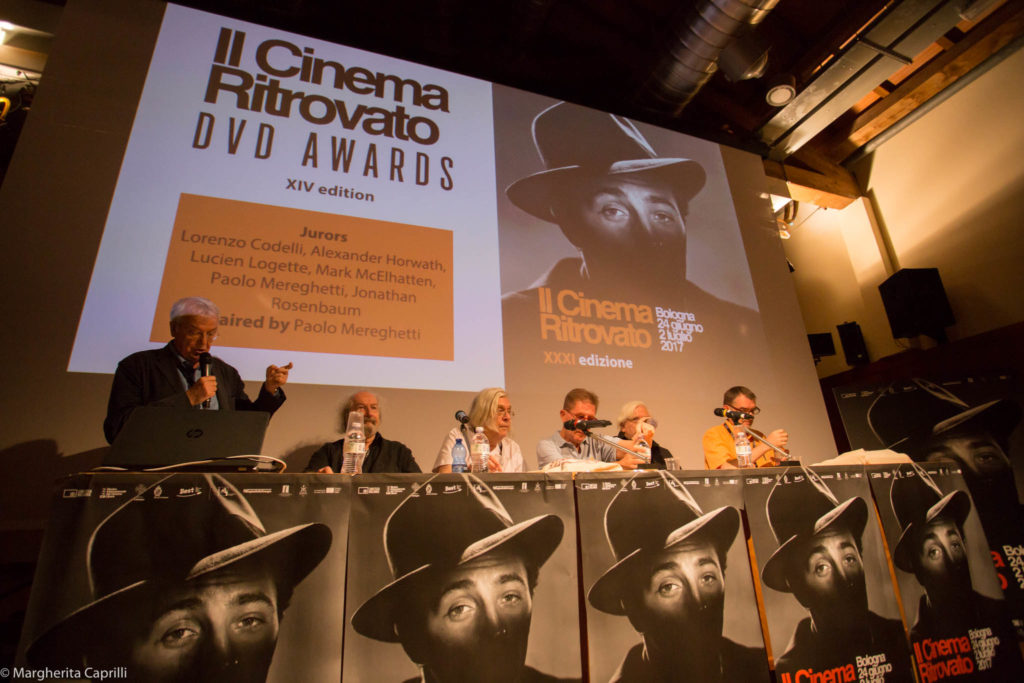 Questa mattina, alle ore 12 presso la Sala Auditorium – Laboratorio delle Arti Unibo sono stati assegnati i DVD Awards del Cinema Ritrovato 2017, il premio rivolto alle migliori edizioni di restauri e film d'essai per cinefili intenditori. Alla presenza di una giuria d'eccezione, presieduta da Paolo Mereghetti e con la partecipazione di Lorenzo Codelli, Alexander Horwath, Mark McElhatten, Jonathan Rosenbaum e Lucien Logette, sono state dapprima menzionate edizioni particolarmente meritevoli segnalate da ciascun giurato.
Accanto a grandi nomi, come le riedizioni degli ultimi lungometraggi di due grandissimi come Josef von Sternberg per Anatahan (1953, Giappone, Kino Lorber, DVD & Blu-Ray) e Robert Bresson per L'argent (1983, Francia, Criterion, DVD & Blu-Ray), ci sono scelte più di nicchia, come Kafka Goes to the Movies (1907-1921, Germania, Edition Filmmuseum/Goethe-Institut, DVD), un perduto e ritrovato Woman on the Run (Norman Foster,1950, USA, Flicker Alley, Blu-ray), uno dei primi film cecoslovacchi sonori, Tonka Šibenice (Karel Anton, 1930, Repubblica Ceca, Národni fimovy archive/Filmexport Home Video, DVD), il recente restauro di Déjà s'envole la fleur maigre (Paul Meyer, 1960, Belgio, Cinematek/Bruxelles, DVD) sull'emigrazione italiana, fino al recentissimo Il Cinema di Pietro Marcello: Memoria dell'immagine (2007-2015,Italia, Cinema Libero/Cineteca di Bologna, DVD), co-edizione della Cineteca di Bologna su uno dei più importanti filmmakers contemporanei.
Si arriva così ai premi, capitanati da due edizioni "ingombranti" per il premio speciale: Wajda (1954-2013, Polonia, Cyfrowe Repozytorium Filmowe [Digital Film Repository], DVD) e Robert Frank: Film Works (1959-1975, USA, Steidl, DVD), in cui spicca anche la cura materiale per l'edizione. Nel primo caso la collezione filmica è accompagnata da una monografia dedicata al regista, mentre nel secondo l'oggetto si fa quasi feticcio per i collezionisti, con un'elegante confezione a mo' di scatola di legno.
La miglior riscoperta di un film dimenticato è andata a Dissent & Disruption: Alan Clarke at the BBC (1969-1989, Regno Unito, BFI, DVD & Blu-Ray) – più che ritrovamento, scoperta di un regista inglese attivo per la BBC negli anni Settanta e Ottanta – e Les Saisons, une tétralogie de Marcel Hanoun (1968-1972, Francia, Re:Voir Video, DVD), ciclo stagionale che riflette su temi politici dell'epoca e sull'arte cinematografica.
Il premio per il Miglior Bonus è stato assegnato a Bring Me the Head of Alfredo Garcia (Sam Peckinpah, 1974, USA, Arrow Films, Blu-Ray), bel restauro in 4k, mentre la Miglior Collana/Cofanetto ha due vincitori: Pioneers of African-American Cinema (1915-1944, USA, Kino Lorber, Blu-Ray) e Dekalog (1985, Polonia, Arrow Films, DVD & Blu-Ray) che introducono rispettivamente al "rare cinema" americano e al progetto televisivo di Kieslowski.
Chiudono la rassegna il Miglior DVD/Blu-ray singolo e il premio in memoria di Peter Von Bagh: rispettivamente Colour Box: 19 Films by Len Lye sul pionere della scultura cinetica (1929-1980, USA/Nuova Zelanda, Len Lye Foundation/ Govett-Bewster Art Gallery/Ngã Taonga Sound and Vision, DVD) e The Salvation Hunters (Josef von Sternberg, 1925, USA, Edition Filmmuseum, DVD), primo lungometraggio di Josef von Sternberg, con alcuni preziosi contenuti extra.
Le motivazioni dei premi:
2017 Il Cinema Ritrovato DVD Awards-ITA 2017 Il Cinema Ritrovato DVD Awards-ENG
Olga Sargenti e Beatrice Seligardi, Corso di Alta Formazione redattore multimediale e crossmediale della Cineteca di Bologna.