"TELL THE TRUTH!" – A VIEW INTO YUGOSLAV CINEMA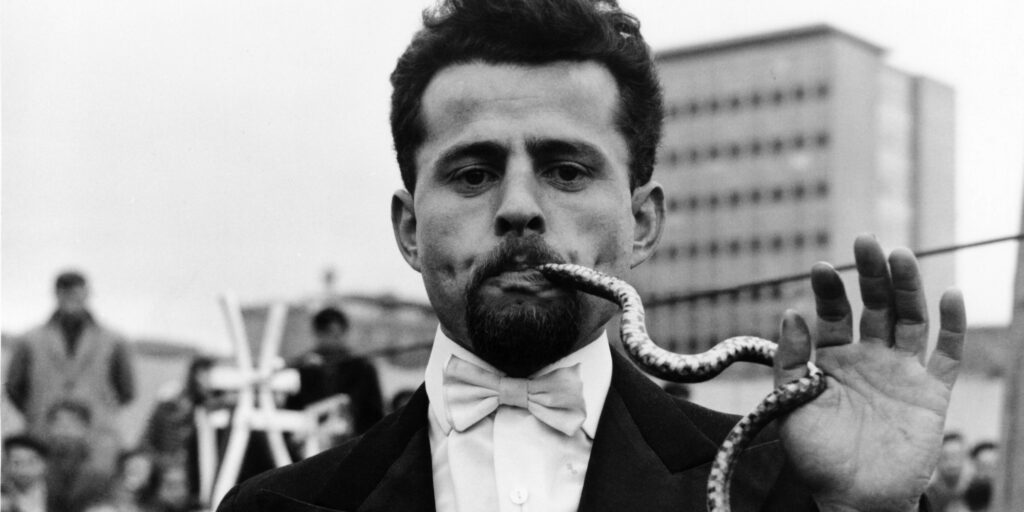 Curated by Mina Radović
Established in 1918 as the Kingdom of Serbs, Croats and Slovenes, Yugoslavia constituted one of the most socio-politically, culturally, religiously, and ethnically diverse states in modern Europe. The years after the Second World War saw the birth of formidable new artists and aesthetic innovations charged along diametrically different planes, supported by a sophisticated national studio system. Artists faced pertinent issues challenging contemporary Yugoslav reality, breaking taboos and forging new means of cinematic expression. This programme takes us from the classical cinema in the postwar period to the height of the New Yugoslav Film and celebrates the works of master filmmakers of the era.
The programme begins with the omnibus film Tri zgodbe directed by France Kosmač, Jane Kavčič and Igor Pretnar with three stories connected by the image of the river. A gamechanger in the cinematic representation of war follows with Branko Bauer's masterwork Ne okreći se, sine. Zenica by Jovan Živanović and Miloš Stefanović is a versatile portrait of postwar society told as a character study set in an industrial town in Bosnia and Herzegovina. Deveti krug by France Štiglic shows the psychological effects of totalitarianism through the story of a young couple in the Independent State of Croatia. Ples v dežju by Boštjan Hladnik follows the love story between a young man and the ideal woman he finds in the bourgeois lady Maruša. Tri is a landmark of the New Yugoslavian Film and essential introduction to the work of Aleksandar Petrović. Čovek nije tica by Dušan Makavejev invites us to discover the auteur's debut that announced his lively experimentation with socio-psychological, cultural, and sexual reality. The final film is also one of the most radical: Živojin Pavlović's Zaseda combines film poetry and political critique in telling the story of a young man in postwar society. A film that was 'bunkered' it also announces the fate of many filmmakers of the Black Wave (Crni Val) that shook Yugoslavia.
The programme invites viewers to get a glimpse of the diverse nature of short film production in the country in the 1950s and 1960s. Bunt na kuklite is a playful children's tale made in Yugoslav Macedonia by Dimitrie Osmanli. Čovjek bez lica is a slow-burning study of incarceration directed by Bahrudin Bato Čengić. Pioniri maleni gives voice to dispossessed children and is a great introduction to the documentary practice of Želimir Žilnik.
What emerges are films that carry a power to speak the truth – awakening the mind and quickening the soul – in ways that can be claimed only by major chapters in the history of world cinema.
Mina Radović