De Kri-Kri à Dandy: Raymond Frau dans tous ses états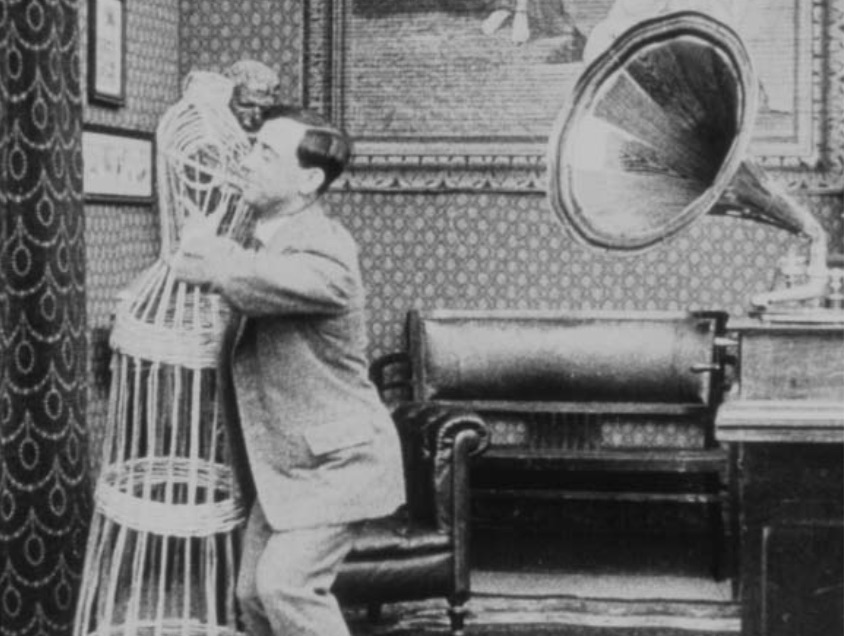 Dandy, or The Impertinent Jests of a Comedian
Of all the comedy series, that featuring Dandy is one of the least known, and consequently the least studied. And for obvious reasons: it was born after the First World War, when the genre was already exhausted. All together, Boireau, Onésime, Tommy, Caza, Max, Bébé and Bout-de-Zan, Anana and Cunégonde had made more than 2,000 films with some 80 different characters between 1908 et 1918. Coming from the circus, theatre, or music hall, these first comics were pioneers. The French burlesque of that era formed a distinctive school, which inspired American slapstick comedy. The character of Dandy, following in the path of Kri-Kri, was already exceptional in 1918, with Serpentin as his only rival. The comic series already belonged to another age; yet at Eclair, Raymond Frau (1887-1953) was able to sustain his character of Dandy until 1925, enjoying great success with the public and often with the critics. How?
This little man with trousers that were too long and too large, with a dazed look and a face of extraordinary mobility, conquered the public and became one of the most celebrated fantasists of the screen. He only had to appear for the laughter to explode, if the press of the period is to be believed. Perhaps he owed this to the fact that his earlier character of Kri-Kri/Patachon had been widely distributed in France, to his recognition as a man of the theatre, to his elastic physique, his contortions worthy of an india-rubber man, and to a subtle mix of comic destructor in the spirit of Jean Durand's troupe "Les Pouittes", and a certain unflappable composure.
From 1918, in France, Raymond Frau played in 17 Dandy films under the direction of Georges Rémond – an unsung filmmaker employed at Eclair – without counting those of his Austrian period. The pattern was shaped from the very first title, Dandy fait un béguin: Raymond Frau, although never credited as author of the films, guided the subjects towards a subtle blend of farcical business and sentimental comedy, with a bent for unbridled or crazy comedy. With experience of the techniques of circus and music hall, he reinvented another character, with a permanent smile and an elastic body. Dandy was a true phenomenon, on which Eclair based itself, "communicating" this in the corporate press by means of posters, handbills, and slogans like "Dandy? A hoot!"
Beside him, never credited, the young actress Lucienne Legrand appeared in a number of films, sometimes under the name of Lulu (Dandy ébéniste, Dandy navigateur). Lucienne Legrand (1900-1987) made her film debut after having studied singing, and performing in three revues. Her debuts with Dandy led to feature films, and the biggest encounter of her life, with the cinéaste, actor, and designer Donatien. She became Donatien's real-life partner as well as mascot actress, reviving the character of Lulu in several films before definitively abandoning the cinema on the eve of talking films. Alongside Dandy, she contributed youth, freshness, and grace.
This was a period when French cinema was embattled. Curiously, Dandy's films are typically French in inspiration, shot in the streets, the Parisian suburbs, the town of Épinay, against the shopfronts… but with a very distinctive striving to emulate the American comic cinema, notably the work of Charley Bowers, of whom Raymond Frau was inevitably aware. Certain gags are directly influenced by this crazy humour, even if some films hesitate between situation comedy, sentimentality, and parody. Dandy even goes so far as to put up signs in English, or to give characters American-style make-up and whiskers, with moustaches worthy of transatlantic slapstick comedians. On the other hand, Dandy expresses himself in intertitles almost in argot, and with rhymes or wordplays that are very French, even Parisian.
Frau temporarily left the cinema in 1923 for a South American tour, and did not return to the screen until the dawn of sound in 1929, thanks to Jean Gabin, with whom he had worked at the Moulin Rouge. Paramount, which established a branch in Paris to make multiple versions of feature films, produced some comic subjects, and Gabin and Dandy appeared in several titles. In the credits, Raymond Frau is sometimes listed under his own name, playing the role of Dandy, in films which have no connection with the series of the same name. To add to the confusion, he is most often identified as "Dandy", playing another role.
With the coming of sound, Dandy, although still in brilliant form, made fewer films and faded somewhat, though not ageing badly. He reappears in a leading role in the only short which (as far as we know) he directed, Le suis-je? Then he is glimpsed, though less and less, in third roles in features. Dandy did not lack the breath and courage to keep active to the very end. That passion for entertainment which animated him still remains in his last film, the most minor work of Henri Georges Clouzot: Miquette et sa mère, made in 1949. For his farewell to the screen, in the only comedy made by the creator of Les Diaboliques, Dandy creates a character belonging to classic boulevard comedy: a farewell in the form of a wink.
Eric Le Roy