1898: Year Three of Cinema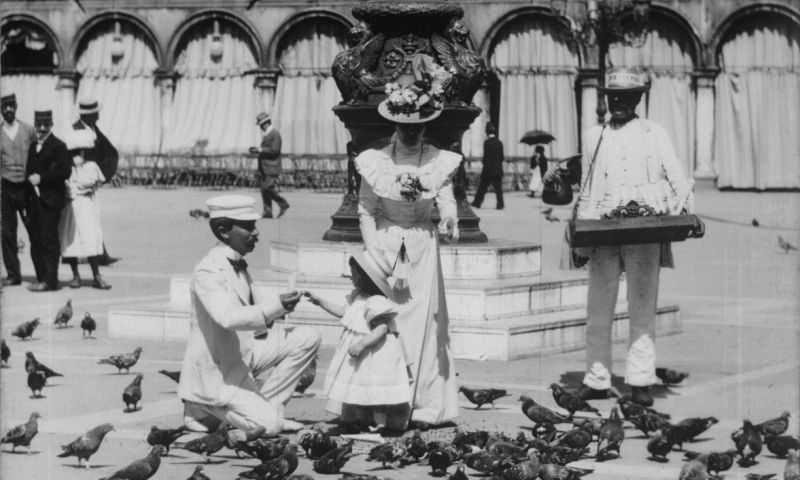 Mariann Lewinsky
In the beginning of cinema, goes the old story, the Lumière brothers created documentary and Georges Méliès created fiction. Never trust binary systems, always heed the terminology used at the time and how practitioners described what they were doing. In a text from 1906 (required reading: Les Vues cinématographiques) Georges Méliès himself distinguished four genres of cinematographic views: vues de plein air (natural views); vues scientifiques (scientific views); sujets composés or scènes de genre (composed subjects or genre scenes); transformations or vues fantastiques (fantastic views). In this section you will find eighty-three cinematographic views from 1898 divided into four chapters, according to the categories proposed by Méliès. They are historically correct and model a precise topography of cinematographic production in 1898.
In 2018 you sit in the Sala Mastroianni and look at what is thought of and talked of as 'early cinema', as 'films' from hundred-twenty years ago. Not that it will be of any avail, but I would like to remind you that the terms 'cinema' and 'film' do not apply, not up to 1907 at least. There were no such things then. (The case was expounded by André Gaudreault in Il cinema delle origini. O della 'cinematografia-attrazione', 2004).
As for exhibition practices in 1898, projections could be seen in places such as music halls, cafés chantants, theatres and fairground shows. In variété shows, a few vues de plein air could make up the last number, a slot unpopular with artists. Printed programs rarely contain titles, they simply indicate 'Biograph' or another of the enormous variety of expressions used for the projection of living pictures.
Productions by Hatot, Breteau and Méliès, who continued theatrical practices with cinematographic means in passion plays, comic sketches, feats of illusionism and reconstructed actualities, were occasionally exhibited in theatrical venues, and they were eagerly bought and exhibited by itinerant showmen. In 1898, recorded a showman, "we were near to starvation with our projectors; Méliès made us eat plenty again" (Jacques Déslandes and Jacques Richard, Histoire comparée du cinéma, 1968).
All our projections will be from 35mm prints, with the exception of a small number of recent scans. The homogeneity is misleading; the original gauges and systems were wildly heterogeneous and there were too many of them to be described here.
Last but not least, cinematography was not confined to the screen. In June 1898, the British Mutoscope & Biograph Syndicate purchased the rights to the Kinora Casler-Lumière, a paper flipbook machine patented by the Lumière brothers in 1896 and manufactured and sold by Léon Gaumont & Cie. For this home movie device, clients could purchase flipbook versions of cinematographic views by Lumière and Gaumont starting in 1900, and by Mutoscope & Biograph from 1902 onward; moreover, they could have their own animated portrait made.
Mariann Lewinsky