IL CINEMA RITROVATO 2022
FESTIVAL CATALOGUE | Book, pp. 388
Our catalogue is more than a guide to our films! It's an essential part of the festival, an encyclopedia of knowledge which arouse curiosity, put the films in their proper historical context and preserve the memory of the films seen. Please note that the information in the catalogue is also available online.
---
VAMPYR
by Carl Theodor Dreyer | 2 Dvd + Booklet

One of the great films in the history of cinema, one of the most enigmatic and engaging adventures that the eyes of spectators have ever beheld, and one of the most significant restorations by Cineteca di Bologna.
Directed by Dreyer in 1931 and loosely based on some of Sheridan Le Fanu's stories, Vampyr is a horror film, a fantasy film, a film of fog, luminescence, few words and terrifying noises. The young Allan Gray, alone in a foreign country (perhaps a dream, perhaps his unconscious), immersed in an eternal twilight, will have to face evil signs, ambiguous shadows, mysterious deaths, obscure characters to triumph over the occult and the invisible vampire in order to return to light and love.
Restored by Deutsche Kinemathek and Cineteca di Bologna in collaboration with ZDF/ARTE and Det Danske Filminstitut, at L'Immagine Ritrovata laboratory. With the music of Wolfgang Zeller restored by Timothy Brock and performed by the Orchestra of Teatro Comunale di Bologna conducted by him.
---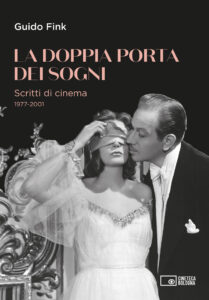 LA DOPPIA PORTA DEI SOGNI
Scritti di cinema
di Guido Fink
curated by Alessandra Calanchi and Paola Cristalli | Book, pp. 404

From Whitman to Griffith, stopping by Allen Ginsberg along the way; from Shakespeare to sophisticated comedy, passing through Karen Blixen; from Antonioni to Gianni Celati to David Grossman; from Poe's purloined letter to Joseph Mankiewicz's letter to three wives, with a Lacanian detour; from Northrop Frye to Hitchcock; from Tutti a casa to La vita è bella, in search of the Jewish presence in Italian cinema; from Paolo Stoppa to Woody Allen, via Delmore Schwartz and Charlie Chaplin.
This book is a collection of essays written between the late 1970s and early 2000s, offering Guido Fink's "history of film". A compendium of his inimitable style and his radical approach to criticism and research, weaving together unexpected relationships and calmly exploring frontiers with his cosmopolitan cultural perspective. Not merely a collection of essays, these writings are also exquisitely crafted stories because during Fink's time he alone treated film criticism as a literary genre, with princely (Lubitschian) naturalness and ironic understatement.
---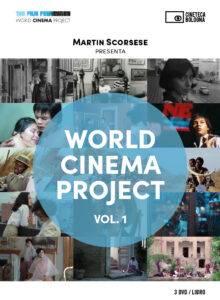 Martin Scorsese presenta
WORLD CINEMA PROJECT vol. 1 
curated by Cecilia Cenciarelli | 3 Dvd + Booklet
For more than 30 years Martin Scorsese has contributed to spreading the culture of film preservation and restoration with The Film Foundation. He extended this mission in 2007 with the creation of the World Cinema Project, which restores films from geographical areas that lack the training, funding or technology to preserve properly their motion picture history.
Cineteca di Bologna and L'Immagine Ritrovata laboratory have always played an active part in the project, helping to preserve, restore and present the films.
This box set contains five emblematic masterpieces from Cuba, Senegal, the Philippines, Iran and Taiwan: Memories of Underdevelopment (1968) by Tomás Gutiérrez Alea, Touki Bouki (1973) by Djibril Diop Mambéty, Manila in the Claws of Light (1975) by Lino Brocka, Chess of the Wind (1976) by Mohammad Reza Aslani and Taipei Story (1985) by Edward Yang.The booklet contains film descriptions, director profiles and interviews, and an unpublished piece written by Martin Scorsese.
---
PIER PAOLO PASOLINI. FOLGORAZIONI FIGURATIVE
curated by Marco Antonio Bazzocchi, Roberto Chiesi, Gian Luca Farinelli | Book, pp. 312
In 1962, Pier Paolo Pasolini dedicated his second film, Mamma Roma, to Roberto Longhi, the professor he had studied with in Bologna 20 years earlier. Pasolini claimed he was indebted to him for a "figurative epiphany". The images that Longhi projected in the classroom and the details of Masaccio's works had struck a chord with the young student.
This book explores the formative years of Pasolini, as painter and poet, up to his film debut and success as an intellectual and director. Each Pasolini film is examined with an eye to those "figurative epiphanies" of his education. Pasolini's cinema depicted Italy's anthropological transformation, from the postwar period to the years of middle-class neo-capitalism. And it all started with the black-and-white reproductions that a student not yet 20 had observed in a small classroom on Via Zamboni.
---
PASOLINI E BOLOGNA. GLI ANNI DELLA FORMAZIONE E I RITORNI
curated by Marco Antonio Bazzocchi, Roberto Chiesi | Book, pp. 384
Bologna is the city where Pasolini was born (on March 1922) and where he experienced the most intense years of his education. This book attempts to reconstruct the origins of Pasolini's culture and imagination. Bologna in the late 1930s and early 1940s was the place where Pasolini encountered people of great influence such as Roberto Longhi, but it was also a city under the fascist regime, which the young poet initially endured as a reflection of paternal authority and against which he would rebel.
The book contains a vast selection of Pasolini's early writings related to his years of study, but also works connected to his frequent returns to his hometown for the magazine "Officina", for speeches at conferences and debates, and for shooting films such as Comizi d'amore, Edipo re and Salò. "Historical" texts by Renzo Renzi, Laura Betti and Fabio Mauri open and close the book, which also includes essays by Marco Antonio Bazzocchi, Stefano Casi, Andrea Cerica, Roberto Chiesi and Anna Tonelli.