Festival La Rochelle Cinema
2022
July 1st – July 10th, 2022
A rich retrospective for the centenary of Pier Paolo Pasolini's birth, hosted by La Rochelle festival in collaboration with the Italian Cultural Institute (Paris), Carlotta Films, Cineteca di Bologna, Centro Studi-Archivio Pier Paolo Pasolini, Il Cinema Ritrovato, Bergamo Film Meeting, Riga International Film Festival, La Cinémathèque du Documentaire, Les Films du Camélia, Tamasa, ADRC, Afcae, L'Avant-Scène Cinema and LaCinetek.
The complete programme is available here.
2021 
La Rochelle, 25-06/4-07/2021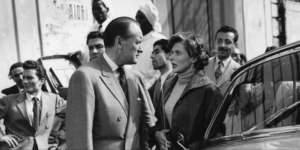 The friends at Festival La Rochelle – which will be held from 25 June to 4 July – present the programme for the 49th edition, which also includes a retrospective dedicated to Roberto Rossellini, in collaboration with the Cineteca di Bologna. 
Here the programme (the full version available in May) 
2020
La Rochelle, 26/06 – 5/07/2020
The La Rochelle festival is a love story between a city at the beginning of summer, a curious and enthusiastic audience and films from all over the world. This very special 48th edition, which will be held online, will not fail to present to the public a rich program: in particular, we recommend the retrospective dedicated to Roberto Rossellini, with a selection of restorations realised by L'Immagine Ritrovata.
We are also glad to annouce that the Director of the Cineteca di Bologna, Gian Luca Farinelli, will present the film "The Passion of Anna Magnani" by Enrico Cerasuolo, a title scheduled for this year's edition. Here the film's notes. 
Visit here the full program
2019
La Rochelle, 28/06 – 7/07/2019
The La Rochelle festival was again a privileged partner. Actress Alexandra Stewart was the patron of the French festival and our guest in Bologna. 
La Rochelle has selected several of our best recent restorations.