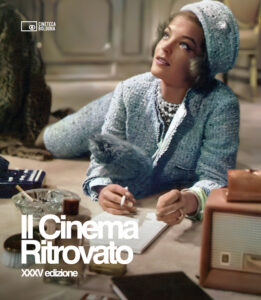 IL CINEMA RITROVATO 2021
FESTIVAL CATALOGUE | Book, pp. 376
Our catalogue is more than a guide to our films! It's an essential part of the festival, an encyclopedia of knowledge which arouse curiosity, put the films in their proper historical context and preserve the memory of the films seen. Please note that the information in the catalogue is also available online.
DOWNLOAD THE CATALOGUE
BUY ON CINESTORE
---
CHAPLIN
by Peter von Bagh | Book, pp. 540
Chaplin is the last work by Peter von Bagh, one of the most significant of European critics as well as artistic director of Il Cinema Ritrovato for 15 years, who died in 2014. "The entire truth about the director," as he used to like to say during the final years he was preparing this book. It feels like the natural end point for a life of cinephilia that was always cultured, free and practised (through festivals, archives, universities and publishing). Chaplin is "the entire truth" but also something more: a passionate reading that blends historical knowledge, literary vocation and archival research and in which every film shines forth in a new and highly personal interpretation. Particular attention is paid to the early years of his career, which have never before been subject to such profound scrutiny. The crystal clear voice of a 20th century scholar interrogates one of the most influential filmmakers and cultural figures of that era. The "attempt to clarify the meaning of Chaplin's work, first of all to oneself, is the first and most sacred responsibility of a film critic". Translated from the Finnish by Nicola Rainò.
---
L'AVVENTUROSA STORIA DEL CINEMA ITALIANO
da La dolce vita a C'era una volta il west
a cura di Franca Faldini, Goffredo Fofi | Book, pp. 471

A legendary book, which recounts the golden age of Italian cinema like never before, through the words of its protagonists. Now in a new and updated edition, this book by Franca Faldini and Goffredo Fofi collects the testimonies of those who conceived, realised and lived the cinema – from directors to technicians.
This third volume covers the 1960s, from the euphoria of the Italian economic miracle to the years of protest, a period of radical social and cultural transformation for Italy and of exceptional richness and vitality for Italian cinema. They are the years of the great art cinema, of the commedia all'italiana, of the spaghetti western, of the musicarelli. A journey from the sparkling Via Veneto of the 'dolce vita' to the dusty Italian West, from the colossal sets of Hollywood on the Tiber to the inventive and handmade reconstructions of the horror film, from the North to the South in an Italy that was constantly changing.
It is a story told by many voices that rekindles the life of a great period of Italian cinema, when it shone on the international stage as never before.