Midnight Sun Film Festival
2022
Midnight Sun Film Festival, June 15th-19th, 2022

Three important restorations realized by Cineteca di Bologna at the 37th edition of Midnight Sun Film Festival: Kahdeksan surmanluotia (Eight Deadly Shots, 1972) by Mikko Niskanen, a restoration born out of Peter von Bagh and Martin Scorsese's friendship and love of cinema, Lumumba: La mort du prophète (Raoul Peck, 1991) and Sambizanga (Sarah Maldoror, 1972).
Full program here
2021
Midnight Sun Film Festival, June 17–21, 2021
The 36th Midnight Sun Film Festival on June 17–21, 2021 will be held in accordance with the best traditions of the festival, as high quality as possible in the prevailing pandemic conditions.
International top-level films will be screened as an online festival throughout Finland and beyond. On television, Yle Teema will present "The Best of Midnight Sun" selection with special inserts, and the Finnish National Audiovisual Institute will host a film series with the same theme in Helsinki's Kino Regina later in the summer.
Three important film restorations realized by La Cineteca di Bologna will be presented in this year's edition: 
https://msfilmfestival.fi/filters/il-cinema-ritrovaton-aarteita/
As a cross-section of the festival's traditional repertoire, there will be numerous streamed film screenings, with presentations and expert master classes, as well as morning discussions with the guests who attended at previous editions.
Visit the full program Midnight Sun Festival 2021 here
2020 
Midnight Sun Film Festival, 10-14/06/2020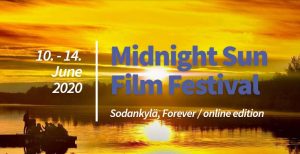 During the lockdown season, Midnight Sun Film Festival's online edition, MIDNIGHT SUN FOREVER, presents more than 50 films accompanied by unforgettable morning discussions and recent filmmaker interviews during 10–14 June 2020. The Midnight Sun Film Festival, strongly connected to Il Cinema Ritrovato, having shared the artistic guidance of Peter von Bagh for about a decade, will feature, among others, a tribute to Ettore Scola, Pietro Marcello's "Martin Eden" and  Alice Rohrwacher's "The Wonders". 
Visit the full programme here
2019
Midnight Sun Film Festival, 12-16/06/2019
Il Cinema Ritrovato has special connections with the Sodankylä Midnight Sun Film Festival in Finland, because we had the chance to work with the same artistic director for about ten years, Peter von Bagh. We often shared guests and silent film musicians. This year they have programmed two films restored by us in 35mm copy