Il Cinema Ritrovato DVD Awards – XIII edition. The Winners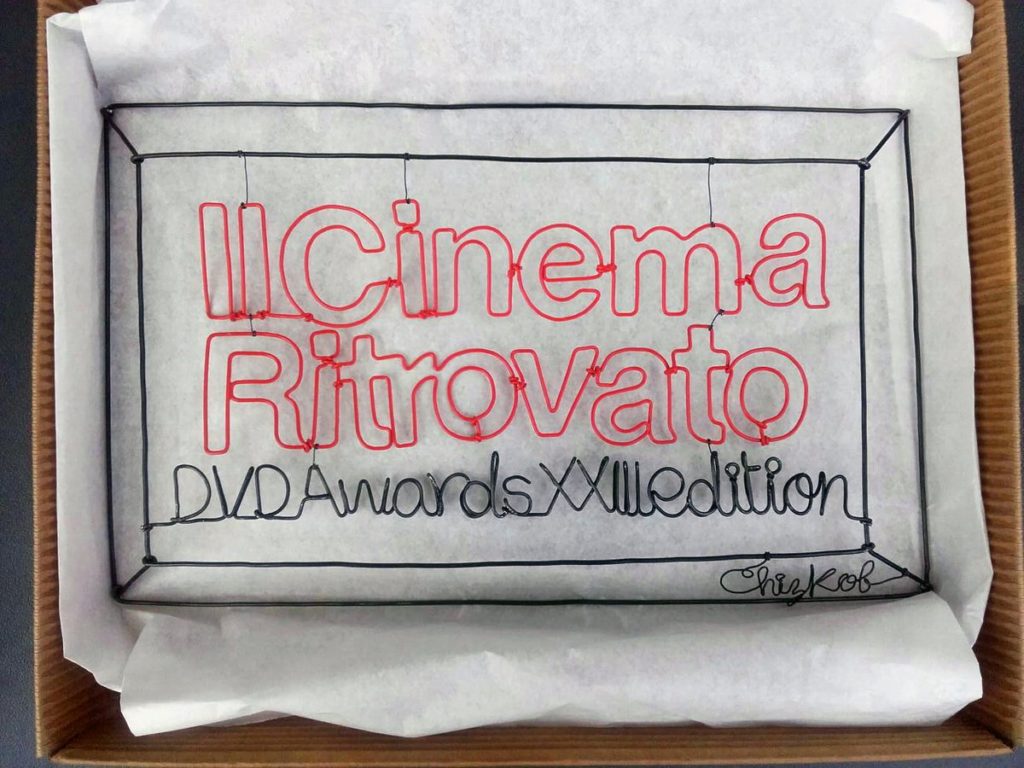 Jury: Lorenzo Codelli, Alexander Horwath, Lucien Logette, Mark McElhatten, Paolo Mereghetti (chaired by), and Jonathan Rosenbaum. Although Mark McElhatten wasn't able to attend the festival this year, he has continued to function as a very active member of the jury.
THE PETER VON BAGH AWARD

FREDERICK WISEMAN INTÉGRALE VOL. 1 (U.S.A., 1967-1979) – BLAQ OUT, DVDs
The biggest author of the most beautiful documentaries in the second half of the last century, has personally brought together in this box set, produced in France, the first volume of works chronicling his career. This edition represents a unique occasion to rediscover works, like for example his "damned" TITICUT FOLLIES, an incredible debut that caused immense outrage in America and Europe. The film is followed by twelve Wiseman's documentaries, organized chronologically and well-restored. (LC)
BEST SPECIAL FEATURES

NICO PAPATAKIS BOX SET (France, 1963-1992) – Gaumont Vidéo, DVD
A comprehensive and cogent presentation of a neglected filmmaker from Ethiopia and a singular cultural figure in postwar France who ran an existentialist cabaret, produced major films by Jean Genet and John Cassavetes, gave the German singer Nico her name, and made many striking films over four decades. (JR)
BEST DVD SERIES

COLLECTION 120 ANS N.1 1885-1929 (France, 1885-1929) – Gaumont Vidéo, DVD
To celebrate its 120 years of activity in the film industry, Gaumont has published a series of nine beautiful box sets that summarize the whole history of cinema. Divided by decades, the box sets consist of twenty to thirty-five DVDs with the most representative films marked with a daisy symbol. The editions include films made by Alice Guy, Louis Feuillade, Dreville, Duvivier, Gabin, Louis de Funès, Pialat and Deville but also masterpieces made by Losey, Fellini or Bergman that the French company co-produced. Furthermore, each box set includes a DVD with the most famous original soundtracks of the period and a booklet describing the history and the achievements of the production house. (PM)
BEST BOX SETS

a. THE CARL THEODOR DREYER COLLECTION (Denmark, 1925-1964) – BFI, Blu-Rays
Not the first Dreyer collection to come along, but one that consolidates, expands, and in some ways improves upon some of the scholarly achievements of its predecessors. Included are MASTER OF THE HOUSE (1925), DAY OF WRATH (1943), ORDET (1955), and GERTRUD (1964), the first two presented in alternate versions, and a good many first-rate extras. (JR)
b. THE JACQUES RIVETTE COLLECTION (France, 1971-1981) – Arrow Academy, Blu-Rays & DVDs
This box presents a whole subcontinent of cinema: the labyrinthine work of Jacques Rivette in the 1970s. At the center is his 13-hour magnum opus OUT 1 – eight feature-length episodes full of conspiracy, blackmail, and the mysteries of theater. The short version, OUT 1: SPECTRE, and three additional features (DUELLE, NOROîT, MERRY-GO ROUND) are also included, as well as a fine book and further bonus materials. For cinephiles, this edition is the "magical diamond" that the characters in one of Rivette's films are searching for. (AH)
BEST CONTRIBUTION TO FILM HISTORY / BEST REDISCOVERY

a. UNDERGROUND NEW YORK (Germany, 1968) by Gideon Bachmann – RE:VOIR Video Paris, DVD
An exceptional reportage from the crib of the underground movement, at the peak of its outburst. The young filmmaker Gideon Bachmann, who afterwards wrote the biographies and became a close friend of such auteurs as Federico Fellini and Pier Paolo Pasolini, understood the importance of the fleeting moment during which artists like Jonas Mekas, Andy Warhol, Shirley Clarke and others, were becoming popular. While their friend Michelangelo Antonioni was paying them a visit with a smile on his face, the streets were invaded with violent demonstrations against the War in Vietnam, and cocktail parties were being held at the Museum of Modern Art. (LC)
b. LE CHEMIN D'ERNOA, LA FEMME DE NULLE PART, FIÈVRE, L'INONDATION by Louis Delluc (France, 1921-1924) – Les documents cinématographiques, DVDs
This remarkable box-set presents almost all of the filmed work, previously unpublished on DVD, of Louis Delluc, who was one of the first film critics and the first French film theorist. His career was too short – he died at 33, in 1924 – but here we discover the importance of his films, which equal those of his friends Marcel L'Herbier, Jean Epstein and Germaine Dulac. (LL)
c. … UND DEINE LIEBE AUCH & SONNTAGSFAHRER (Germany, 1962-1963) by Frank Vogel, Gerhard Klein – Edition Filmmuseum, film&kunst GmbH, DVD
Little is known about the East-German cinema and these two films are a real surprise. They are contemporary with the construction of the Berlin Wall in August 1961, and have very cleverly introduced this construction in their scenarios, a drama by Frank Vogel and a sad comedy by Gerhard Klein, without falling into political or patriotic propaganda. The editing is performed with the usual care of editions Filmmuseum Munich. (LL)
PERSONAL CHOICES
Note: All of these selections with the exception of Mark McElhatten's are drawn from the nominated entries.

Lorenzo Codelli:
JORNAL PORTUGUÊS: REVISTA MENSAL DE ACTUALIDADES (Portugal, 1938-1951) António Lopes Ribeiro – Cinemateca Portuguesa – Museu do Cinema, IP, DVD
The Cinemateca Portuguesa restored and took note of a complete collection, of a notorious newsreel made during the dictatorship of Antonio de Oliveira Salazar. A philologically accurate work, an impeccable example of historical research and extremely important for the education of future descendants , this work testifies the atrocities that other countries still wish to keep secret from the eyes of the public.

Alexander Horwath:
Ex aequo: in honor of the underappreciated field of audio-visual historiography: the great box set JORNAL PORTUGUÉS: REVISTA MENSAL DE ACTUALIDADES (1938-1951) (Cinemateca Portuguesa, DVDs); and in honor of all the poets who practice an anarchist historiography, Ernest Schmidt Jr.'s WIENFILM 1896-1976 (Index DVD editions).
Lucien Logette:
SHOOTING STARS (UK, 1928) – BFI, Blu-Ray & DVD
Anthony Asquith began his career with one of the best «movie-studio» films of the decade, showing us the process of filming in two instances with constant invention in direction and great boldness in the script that goes beyond the customary happy ending. The copy is superb in reproducing the black and white and grey velvet. This first feature anticipates Asquith's other silent masterpieces such as UNDERGROUND and A COTTAGE ON DARTMOOR.
Mark McElhatten:
THE FILMS OF JACK CHAMBERS (1965-70) – Canadian Filmmakers Distribution Center, three discs, DVD and Blu-Ray editions
This overlooked yet essential release from 2015/16 includes all of the major films of Canadian painter and filmmaker Jack Chambers as well as a fascinating extra. I say this sincerely and without provocation, for myself and for a great many other filmmakers of several generations, Chamber's HART OF LONDON (1968-70) is the most important and beloved film in existence. No other film expresses what it means to live in the domain of time, within history, in the flesh in this realm on earth in such a powerful and unique way. A film of eerie tenderness and the familiar uncanny.
Paolo Mereghetti:
MIKLÓS JANCSÓ COLLECTION (Hungary, 1963-1987) – Cinémathèque Française/Clavis Films, DVDs
The edition consists of ten films made by the Hungarian film director in the most prolific period of his career, between the 1960s and 1970s. To such well-remembered features as THE ROUND-UP, THE RED AND THE WHITE, RED PSALM, and SILENCE AND CRY are now added six short films never released before, a rich amount of bonus materials with the Cinéastes de nôtre temps episode directed by Jean-Louis Comolli and a booklet with essays written by Martin Scorsese, Marina Vlady, Noël Simsolo and Jancsó himself.
Jonathan Rosenbaum:
SOMETHING DIFFERENT/O nĕčem jiném & A BAG OF FLEAS/Pytel blech (Czechoslovakia, 1962-1963) – Second Run Features, DVD
Věra Chytilová's groundbreaking and innovative early feature, a daring and exhilarating mix of fiction and non-fiction whose editing principles helped to inspire both versions of Rivette's OUT 1, is coupled with her earlier documentary A BAG OF FLEAS—the fourth invaluable Chytilová release to date from this wonderful label, which has more recently devoted its first Blu-Ray to Pedro Costa's HORSE MONEY in a superb edition. I would also like to cite the controversial but gorgeous and impeccably presented MOANA WITH SOUND released on Blu-Ray by Kino Lorber, a beautiful (and, for me, justifiable) way of reviving the Robert Flaherty silent classic.