A GUIDE TO IL CINEMA RITROVATO 2022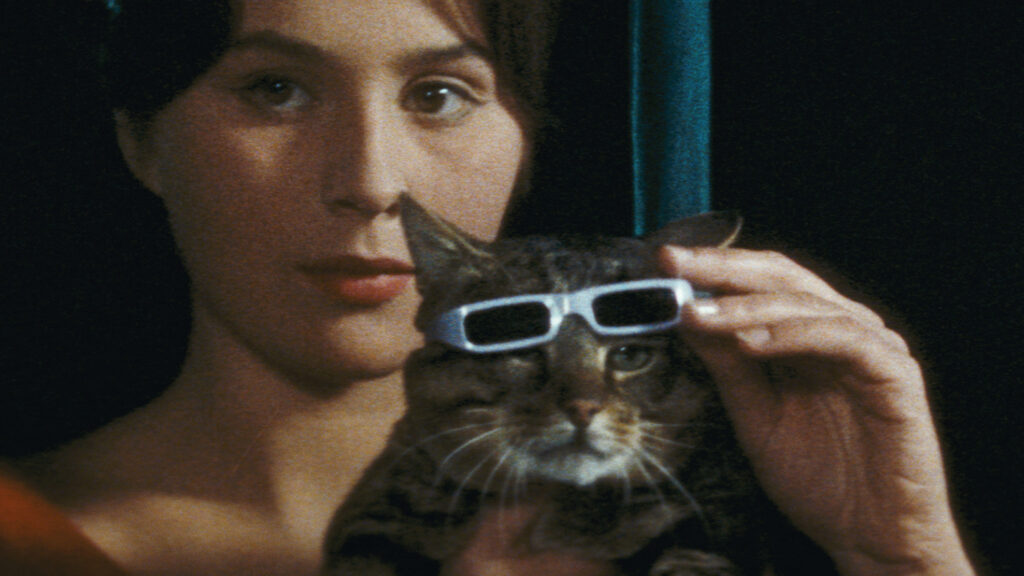 Cecilia Cenciarelli, Gian Luca Farinelli, Ehsan Khoshbakht, Mariann Lewinsky
The 36th edition of Il Cinema Ritrovato will be the first without two people who have been fundamental to the history of our festival – two founders who seemed eternal but unfortunately left us recently. In 1959, in Porretta Terme, a town in the Apennines outside of Bologna, Gian Paolo Testa imagined creating an independent film festival, Mostra Internazionale del Cinema Libero, from which Il Cinema Ritrovato was born in 1986. Ever since 1962, Vittorio Boarini – along with the Bologna's Arts and Culture Councillor Renato Zangheri – had believed that Bologna could be home to a great film archive. Without their passion, belief in institutions, culture and utopian recklessness, this festival would not exist today and we would not be here. In recent years, Gian Paolo was unable to come due to his illness, while Vittorio remained a faithful festival participant – even last year he and his partner hopped from one film to another. Every year Vittorio managed to tear us away from our festival commitments for an evening to celebrate the friendship that has always been the secret strength of our small, maverick festival. Friendship has helped to make the festival an important event bringing together a vast international community of cinephiles and the cinema of the past, which comes to life on the screens of Il Cinema Ritrovato – memory that speaks to us now and informs our future. Thanks Vittorio and Gian Paolo for everything you have taught us.
Thanks to archives and their relevance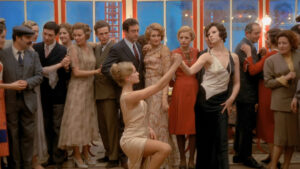 It can't be said enough. This festival happens thanks to the collective effort of many people, the institutions and sponsors that support it, the international committee of experts, the curators, the Cineteca and Modernissimo teams and the many volunteers who join in the festival's delicate last phase. But the protagonists of this festival are the archives and the institutions – 94 this year – that lend the films they have saved, preserved and restored. Without the Film Foundation, Fondation Jérôme Seydoux-Pathé, Gaumont, La Cinémathèque française, the EYE, Murnau Stiftung… this festival simply would not take place.
We live in a dehumanising era in which people and their work seem doomed to disappear and be replaced by algorithms and artificial intelligence; precisely for this reason, we would like to emphasise that this edition of Il Cinema Ritrovato, like all its predecessors, was brought about with the work of a huge community of competent and passionate people, of humans who work to offer other humans a unique cultural experience, in person!
At the last Cannes Film Festival, we were deeply moved by Sergei Loznitsa's The Natural History of Destruction, two hours of images shot between the end of the 1930s and 1945. A compilation film, made exclusively of archive footage. There are no words or captions because the images alone are sufficiently eloquent. It is a shocking work. Seeing images of the Second World War and of the bombings that razed Berlin to the ground, it is impossible not to feel that humanity has been defeated – all the more so now that 80 years later war has returned to Europe. How is it possible? War accompanies the history of humanity. Philosophers, writers, religious figures and politicians have condemned it over the centuries; in contrast to our ancestors, today, we even have images of the wars of the 20th century, a warning that cannot be revoked, yet war has begun again, not far from here. What can we do? What should we do? Il Cinema Ritrovato will continue to demonstrate that cinema is a crucial source of knowledge and that educational institutions are at fault for not using film heritage in schools to educate younger generations.
This year's programme is full of striking examples of the relationship between cinema and history. The section dedicated to films from 100 years ago shows us the march on Rome and Mussolini's takeover of the Italian government. We will see a shocking Journal Actualité Pathé depicting another nationalism that gained ground in 1922 with Kemal Atatürk in Turkey and the burning of Smyrna, which took more than thirty thousand lives, mostly from the Greek and Armenian communities. The images of the city on fire, destroyed homes and survivors fleeing are staggering. So is the ending of Love One Another (Die Gezeichneten) in which Dreyer, in 1922, criticises anti-Semitism and the pogroms in Russia in the early 20th century. Very few films of that time portray the destructive impact of racial intolerance so clearly.
That same intolerance wiped out a generation of artists and an entire successful film genre, to which we dedicate the section called The Last Laugh. German Musical Comedies 1930-1932. The quality of Berlin cabaret and variety theatre artists was the driving force behind the musical comedies that animated German screens with the arrival of sound, bringing unprecedented creative and sexual freedom. Within months of Hitler's ascent to power, that experience came to a halt and many of those artists would become victims of the concentration camps. This section offers a glimpse into a lost world that has never been fully reclaimed by postwar German cinema.
Between the sea and the desert, the natural borders of a country where winds roam, Ennio Lorenzini shows us a free Algeria after it had shaken off the horrors of war. Les Mains libres (1964) is the first feature-length film (in Technicolor) produced in a country searching for its identity, whose national culture had been buried for decades, between the turmoil of the past and the challenges of the future.
The section called "Tell the Truth!" is dedicated to the cinema of a nation that no longer exists, putting the spotlight on one of the most interesting postwar productions: Yugoslavian film. It will be like bringing a lost continent to the surface, one no one seems to want to talk about any more. From Czechoslovakia, another nation that no longer exists, comes The Cassandra Cat (Až přijde kocour, 1963) by Vojtěch Jasný, featuring a cat with special powers who wears glasses. Even though cloaked in metaphors, the director's argument against the communist regime and all repression is clear. Made in the creative fervour of the 1960s when Czechoslovakian cinema was an experimental hotbed, The Cassandra Cat is the kind of independent film that would probably be much more difficult to make today.
Second sight
"Even when trying to imitate the ancient world, nature, or theatre, cinema produced phantoms. Copying the Earth, it revealed the sun," wrote Paul Eluard. One of the ways that cinema enriches us is by showing us worlds, situations and social relations that do not exist yet but could become true. In 1902, Méliès took audiences on a trip through the boundless space of the imagination to the moon. Alongside this magic, almost prophetic quality, film constantly reinvents itself, decade after decade, creating and codifying new styles and genres, discovering new creative terrain. There are many firsts in this year's programme.
For example, our programme celebrates a forgotten director, Victorin-Hippolyte Jasset: the artistic director of Éclair as of 1908, he invented the crime movie with detective Nick Carter (1908), the series with diabolic criminal heroes such as Zigomar (1912) and imagines the first superwoman heroine in Protéa (1913), consciously building the foundations of the future star system.
The year 1922 was a significant year for literature with the publication of Joyce's Ulysses and T.S. Eliot's The Waste Land, as it was for cinema with two forerunners of two eternally modern genres, the horror movie with Murnau's Nosferatu and the documentary with Robert Flaherty's Nanook of the North.
Coming after Ossessione (1943) and Roma città aperta (1945), Sciuscià (1946) was not the first neorealist film, but it was the first to see the full blossoming of the relationship between Cesare Zavattini and Vittorio De Sica, producing a work that is simultaneously realistic and magical, where the destitute and 'American' Rome immediately after the war is also the dreamlike world of two shoeshine boys. Prompted by this film, the Academy began thinking about a special prize for foreign movies, and the producer Tamburella in 1947 received the first in a long line of Oscars for Italian cinema.
It was certainly no coincidence that Zavattini was struck by seeing Black God White Devil (Deus e o diabo na terra do sol), the progenitor film of Cinema Novo and the offspring of Italian neorealism and French New Wave. It influenced Pasolini with its radical choice of making the hunger and primitive soul of the people of the sertão the centre of the film's story and linguistic inventions. This cinematic ballad ends with the storyteller explaining that "the earth is neither God's nor the Devil's, but man's".
Fifty years ago Gerard Damiano invented a genre and a title that from the Watergate scandal onwards would indicate a person who provides inside information on illegal activities. Deep Throat was released in New York in 1972, and, in 1979, a censored version arrived in Italy, where it was immediately confiscated. It was the first porn film to attract a middle-class audience. Today we know about the violence that Linda Lovelace's husband inflicted on her and how the mafia stole the film from its director, and we are grateful to Gerard Damiano's children who restored the film according to their father's vision.
If there were a world map of the history of cinema, Andrei Tarkovsky would be located as far away as possible from Gerard Damiano. Thanks to the work of CSC – Cineteca Nazionale and a complex restoration, we will present his penultimate film, Nostalghia (1983), a poem about homesickness and faith, the director's farewell to his homeland and a celebration of madness, in which he and Beppe Lanci invented a poetic style of cinematography that had never been used before, alternating black and white, colour and halftones between the two.
Excess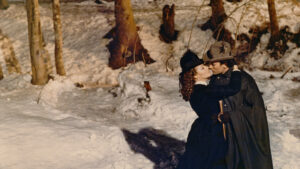 Excess is part of cinema's lifeblood and it is no coincidence that the epic is the genre on which the film industry was founded and which established its rules and conventions. But the law of the cinema is that its rules were made to be broken and that creative excitement often obliterates the rules of the market, creating extraordinary films that do not conform to established formats. 1922 brought us Foolish Wives, the first epic by Erich von Stroheim, the most censored director in film history. The image of its film set, with the reconstruction of Monte Carlo's Place du Casino in between the dusty hills of the San Fernando Valley, is a perfect synthesis of one aspect of cinema's essence: its ambition to be larger than life. As Dave Kehr points out, the film was advertised as the "first million-dollar movie" and the budget was displayed on a billboard in Times Square and up- dated weekly; Stroheim delivered a first cut of some 30 reels in length, which would have to be reduced to ten…
This year, excessive films lasting well over three hours are not in short supply. We should mention four of them. George Steven's Giant (1956) is an enormous American fresco, a sort of Texan Gone with the Wind, produced when Hollywood needed to demonstrate that it was much bigger than television in terms of narrative ambition, cast, and the use of CinemaScope. Today, the roles are reversed and it is home viewing platforms that challenge cinema's spatial and temporal rules.
Luchino Visconti's Ludwig (1973): ten years after The Leopard, Visconti tells the story of another prince, Ludwig II, a solitary king and aesthete, "the last absolute monarch, who preferred to govern through art rather than politics". It is a film in which Visconti reinterprets the 19th century, its taste for spectacle and the arrival of magic lanterns (this catalogue displays several magnificent slides from the collection of David Robinson, recently acquired by Cineteca di Bologna). Censured and reduced to 125 minutes in Germany, after Visconti's death it was reacquired by his collaborators who, following three years of work, recreated the 237-minute form the maestro intended, which we will present in a digitally restored version.
Mikko Niskanen's Eight Deadly Shots (Kahdeksan surmanluotia, 1972) was originally conceived as a four-part television series produced and broadcast by the Finnish station YLE. Thanks to the director and film historian Peter von Bagh, who was previously director of this festival and who tirelessly promoted its restoration for years, we can finally present – in 35mm – the restoration of an undisputed masterpiece of Finnish cinema, the source of inspiration for an entire generation of filmmakers, including Aki Kaurismäki. Some have compared it to the works of Béla Tarr, while others draw a more classical parallel and claim that its five hours and 16 minutes correspond to what the complete nine-hour version of Greed could have been.
And finally, Jean Eustache's La Maman et la putain (1973). Three hours and 40 minutes that fly by in the blink of an eye. It is a film that contains the atmosphere of Paris in the early 1970s, the end of politics, the desire for freedom, the struggle for freedom, the search for a new morality, for a new language that goes deeper, beyond the surface of things, a film that assaults not only its characters, but also its audience.
Female Rediscoveries
Among the documentaries featured this year we should point out Ana Maria Magalhães' Já que ninguém me tira para dançar (2021), which is dedicated to Leila Diniz, the muse of Cinema Novo, a stage actress and star of telenovelas on Brazilian TV. Her TV career came to an end in 1969 when, in an interview, she said, "It is possible to love one person and go to bed with another. It has happened to me." In a Brazil then under a military dictatorship, this was enough to bring about the so-called Diniz decree, which barred her from television screens. She died in a plane crash in 1972 at the age of just 27. She remains the symbol of a Brazil that wanted change.
If "the finest films are those we haven't yet seen" then Jasset's Protéa (1913) was for a long time one of the missing jewels of an ideal cinephilia. Thanks to a restoration by the Cinémathèque française, we have discovered a heroine born of the cinema and for the cinema (and rapidly imitated by many others, such as Musidora and the serial queens Pearl White, Ruth Roland and Helen Holmes) and played with icy beauty by Josette Andriot, a pioneer of cross-dressing, a queen of physical transformations and a fully rounded athlete capable of swimming, horse riding and cycling.
During the silent era, we find women fulfilling the role of important producer-actresses, including Alla Nazimova (Salomé, 1922-23), and great directors such as Germaine Dulac (Antoinette Sabrier, 1927, in a 9.5mm version). Small gauge and experimental cinema allowed women to make their films independently, as auteurs. This gave rise to parallel history of the cinema, whose transmission was vulnerable (films on reversal stock without a negative and lacking commercial dis- tribution). In the section Super8, 9.5mm & 16mm – Great Small Gauges, we can see three programmes comprising experimental films by German directors realised in 16mm between the 1980s and the early 2000s and collected by Annette Brauerhoch for the University of Paderborn.
Among the discoveries, we would like to point out Iré a Santiago (1964), an energetic and poetic short by the first female director from Cuba, Sara Gómez (1943-1974); Uchiteli (1978), a slice of life in a secondary school from the Bulgarian documentarist Nevena Tosheva; and Avskedet (1982), the powerful directorial debut of Tuija-Maija Niskanen in a film produced by Ingmar Bergman's company.
From Kira Muratova, the Moldavian director who became a naturalised Ukrainian, we will present the restoration of the first two films she made on her own, Brief Encounters (Korotkie vstrechi, 1967) and The Long Farewell (Dolgie provody, 1971), both of which have been long unseen in the USSR. Muratova was one of the freest of all filmmakers in inventing poetic images of daily life – the only possible comparison would be with Agnès Varda. Her humanism allowed her to describe a love triangle as nobody else had done either before or since, placing at the heart of Brief Encounters Vladimir Vyssotski, the most popular singer-songwriter in the Soviet Union – a highly critical voice of the powers that be in Moscow – who combined the levity of a musical with the pace of the Nouvelle Vague.
A Performer's Art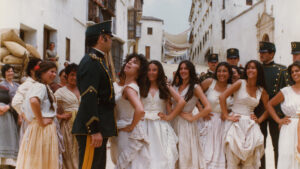 In such an unusual year, during which we celebrate two centenaries – that of Francesco Rosi, with the restorations of Carmen (1984) and C'era una volta… (1967), and that of Pasolini, with a big exhibition that will overturn everything you think you know about the most prophetic Italian poet and filmmaker of the 20th century – we will also celebrate the return of a completely in-person Il Cinema Ritrovato. The cinema might be the product of the era of mechanical reproduction, but every screening is different, a festival is not a digital platform and is in many ways unrepeatable; thus Il Cinema Ritrovato 2022 will come to life between the end of June and the beginning of July together with – and thanks to – the many people who will take part in the screenings.
The films will live on and the many rediscovered and restored works will be the subject of retrospectives and the combined art of programmers and curators the world over. But for those who were lucky to be in Bologna, it will be impossible to forget the screenings they participated in. For this reason, many illustrious guests have agreed to present a film, from Stefania Sandrelli to Walter Hill, from John Landis to Wes Anderson, from Alice Rohrwacher to Olivia Harrison and Bruce Weber… All the silent films will feature live accompaniment by musicians who will render Il Cinema Ritrovato screenings unique – as long as the god of rain permits, otherwise we will be Singin' in the Rain…
We have added a cinema, the Cinema Europa, doubled the number of screenings in Piazza Maggiore to 22 (between the 18 June and 10 July) and we will dedicate the greatest of care to projection quality and to how we programme films across the various cinemas and our two squares, Maggiore and Piazzetta Pasolini, in which we will celebrate the spectacle of projection by carbon arc lamp. To mark the centenary of the Pathé-Baby, we will feature two screenings with an original projector at the Lumière. For those who are too young to know what life was like in the era of small gauge film, we would like to highlight a film that is a love letter to cinema, told in a small gauge: Et j'aime à la fureur by André Bonzel, who relives his life through the mini-films of others and affirms that "All our past is per- fectly conserved; we are a suite that repeats itself; I am nothing more than a link in a repeating chain."
Writings on the Wind
"I'm sorry but I don't want to be an Emperor. That's not my business. I don't want to rule or conquer anyone. I should like to help everyone if possible: Jew, gentile, black man, white."
It is the beginning of the most beautiful speech in the history of cinema, a timeless speech, and the first that Chaplin wrote for himself because, ten years after the coming of sound, he wanted to speak, for the first time, and with his own voice. Chaplin, the first worldwide star of the cinema, a comedian who rose to fame playing the lowest of the low (the Little Tramp, a homeless vagabond), when faced with the most immense tragedy gathering on the horizons of history decided to face his Other, the most hated man of the 20th century (Hitler/Hynkel), a man who was actually born just four days after him, who had a real moustache and who was about to launch the most ferocious war ever. We could not begin Il Cinema Ritrovato 2022 with anything other than The Great Dictator, even if there is really nothing at all great about a dictator…
For this year's poster, we have chosen one of the most fitting scenes from a memorable film, Il conformista (The Conformist, 1970) which embodies the old adage that the most successful film adaptations of literary works are the least faithful. Il conformista is a foundational film, which inaugurated the still young Bernardo Bertolucci's second creative period. Just 29 years old, and already with four features under his belt, he invented a new way of talking about Fascism, of depicting Rome, of working with actors, of photographing them. The dance scene sticks in the mind and we have chosen it as our guiding star for an edition that we hope will lead us all to rediscover the pleasure and emotion of sharing a film screening together, experiencing the same emotion that the juvenile spectators in Aravindan Govindan's masterpiece Thamp (1978) feel as they sit in the circus that has just come to town.
We could only hope that John Landis, the great John Landis, would come to Piazza Maggiore – obviously sent on a mission by God – to present one of the worst received films in the history of American film criticism. A film which would have appealed to the masters of the art of silent comedy, a catastrophic, brilliant and unrepeatable mix of music, comedy and satire. Those who will be present are fortunate – and we will be there!
We realise that we have come to the end of our introduction and still have not said anything about the most beautiful film in the festival but, you know, everything is written on the wind.
Happy viewing!
P.S.: As we go to print, here is a great piece of news and a last-minute gift: we are able to present, following its Cannes premiere, Alice Rohrwacher's new film, the medium-length Le pupille, shot in Bologna and based on a letter written by Elsa Morante to her friend Goffredo Fofi at Christmas time!