Nono appuntamento "live" della rubrica "Cineclub a distanza", rivolta specificamente a ragazze e ragazzi (ma aperto a tutti!) appassionate/i di cinema, per condividere il nostro amore per la Settima arte.
Nuova puntata dedicata al documentario italiano God Save the Green di Michele Mellara e Alessandro Rossi (2012). Al film è dedicata anche l'ultima puntata della rubrica "Consigli per giovani cinefili al tempo del Coronavirus".
Ogni lunedì, sul profilo Facebook della Cineteca, una doppia diretta a cura di Schermi e Lavagne – Dipartimento educativo della Cineteca di Bologna dedicata a un grande classico del cinema, a un autore o a un imperdibile titolo del cinema del presente: iniziamo con un live di introduzione al film seguito dalla visione – autonoma ma contemporanea – del cult movie sulle piattaforme di distribuzione online che lo rendono disponibile; ci ritroviamo poi, sempre online, alla fine del film per discuterne insieme (noi ne parliamo in video e voi potete fare domande e osservazioni nei commenti al post).
p
Clicca sull'immagine per recuperare l'introduzione a God Save the Green; ospiti dell'incontro i due registi: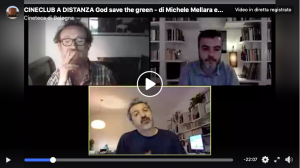 E qui la discussione successiva alla visione del film:
p
Prossimo appuntamento lunedì 25 maggio con L'appartamento di Billy Wilder (1960).
Progetto nato dalla collaborazione tra la Cineteca di Bologna, il Liceo Malpighi – Accademia Video Making e il magazine Dire, fare, insegnare.