Change Rediscovered: Il Cinema Ritrovato for the environment
Il Cinema Ritrovato wants to change
A cultural event should promote positive community change.
Il Cinema Ritrovato must change
Not overnight or by imitation.
With the involvement of experienced professionals.
With direct action regarding the critical issues on both sides of the screen.
Il Cinema Ritrovato is already changing
The 2022 festival is committed to carbon neutrality and reforestation. This edition will determine what actions need to be implemented to become a truly green event thanks to the analysis of zeroCO2.
It's not just about the festival organisers. It's about real synergy between viewers, guests and professionals to create a change that is real. 
*****
This year we would like to dedicate even greater effort to one of the goals closest to our heart: reducing as much possible the festival's environmental impact and making our "cinephiles paradise" even greener.
Indeed, we believe that we must assume our responsibility to protect the environment that surrounds and supports us as much as possible, both through small everyday acts and when we stage a big even like a film festival.
For this reason, we have improved the materials we use and identified good practices to make use of during the festival's next edition. A small step, by us, and a request to you, audiences and festival guests, to help us be more sustainable, because we can only improve our future through a shared effort.
A GREENER FESTIVAL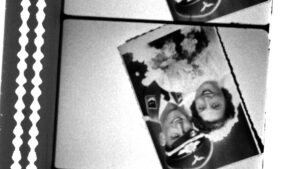 1) Paper quality. Cinema Ritrovato's paper products (programme and festival catalogue) and the flyers distributed during the Piazza Maggiore screenings will be printed on FSC certified, environmentally friendly paper.
2) Paper quantity. The number of programmes and promotional materials will be notably reduced compared to previous editions.
All relevant information is available online and can be accessed via the QR codes printed on the promotional panels throughout festival sites.
3) Reuse of waste products. We have relaunched a special partnership with Gomito a gomito, a socially responsible clothing manufacturer which offers dignified paid work to inmates of the Bologna prison. Last year, plastic and PVC publicity materials were given a second lease of life as bags with an exclusive design. For this year's event, female inmates will produce bags and purses from left over fabrics; the bags will be enriched by several film frames sourced from left overs from restorations carried out in the L'Immagine Ritrovata laboratory.
4) Electric and hybrid vehicles. Several years ago the festival substituted the fleet of vehicles used to transport special guests with more sustainable vehicles. This year, we will use two electric cars and two hybrids (fed from two charging points set up in Piazzetta Magnani).
GOOD PRACTICE
1) Plastic free water. Festival spaces will all be equipped with dedicated drinking water fountains to reduce plastic container use. In Piazzaetta Pasolini we will install a water kiosk provided by Hera; all the festival auditoria will have dedicated water dispensers.
We ask you to make use of your own water bottles; if you do not have one, you can purchase an official Cinema Ritrovato water bottle at one of the festival sales points.
2) Plastic free food. Il Cameo, the refreshment stand in Piazzetta Pasolini, and the stands in Mercato Ritrovato – which are ideal for a break between screenings, an aperitif, lunch or dinner – will offer locally sourced, seasonal products with vegetarian options and will only use compostable containers and packaging.
The staff of the Cineteca di Bologna and the festival will this year be able to make use of a canteen offering artisan food from Pasto nomade.
3) Still on the subject of food, we would like to draw your attention to several apps against food waste, which are both virtuous and practical, after an intense day of screenings:
4) Separated waste. All festival areas will contain recycling bins to minimise the amount of landfill. In collaboration with Gruppo Hera.
5)  Reuse and recycle. A huge quantity of stationary and everyday objects is used as part of festival activity: folders, pens, badges… This year, we would like to ask for your help in minimising the use of such objects and facilitating their reuse. For example, at the end of the festival you will be able to return your badge holder by leaving it in one of the dedicated baskets so that it does not end up in landfill but can instead be reused next year.
TRANSPORT
1) Trains. Do you want to travel to Bologna for the festival? If the distances are not too great and you can avoid catching a flight, we would advise you to opt for taking the train rather than travelling by car. Trains are by far the most ecological form of transport with CO2 emissions up to 91% less than more polluting means. Holders of a Trenitalia Tper regional train tickets to Bologna will also get a reduced price on their festival pass!
2) Bike-sharing and hiring. Bologna is a welcoming and reasonably sized city: the distances between the various festival sites can be covered very quickly, even on foot. For anyone who would like to move "in a higher gear" we suggest:

3) Bus. To cover greater distances and move freely around the city, another more ecological and practical option than taking a car is the bus. Anyone with an annual Tper pass will also get their festival pass at a reduced price!