Bruce Weber: "here, you can really feel a strong awareness in regard to the heritage of cinema and this is something that is missing in the US"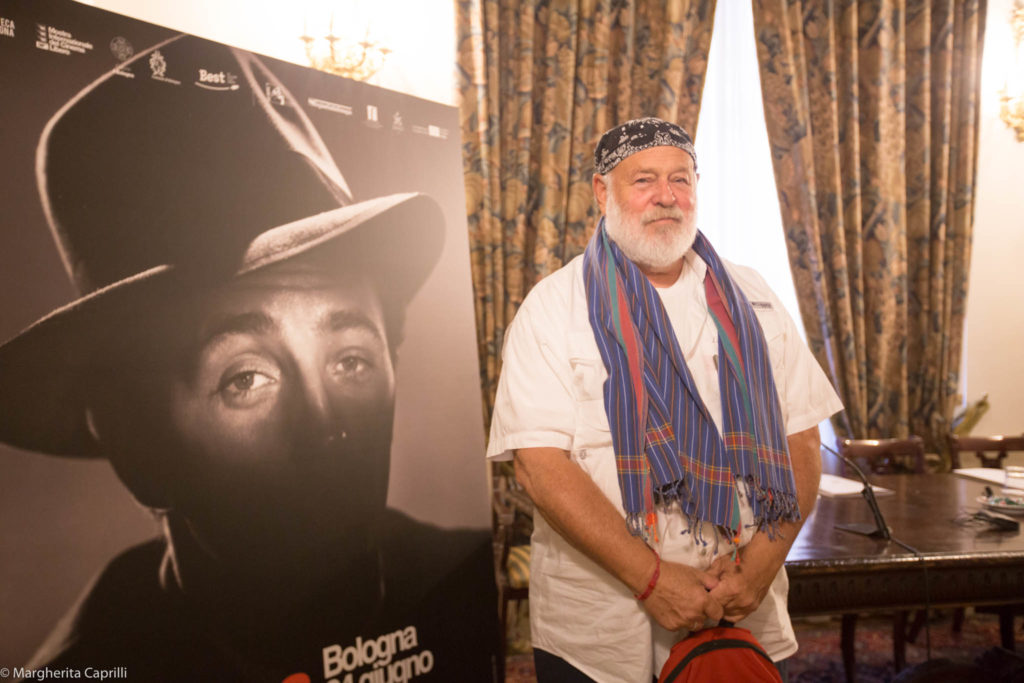 Yesterday morning a press meeting has been held with the super guest of this edition of Cinema Ritrovato: the photographer and documentary film maker Bruce Weber.
In the occasion of the 31st edition of the Festival, we will present Weber's Nice girls don't stay for breakfast – an exceptional documentary on the life of Robert Mitchum, the director's favorite actor. Mitchum was also the number one film star for Chet Baker, the protagonist of the second documentary by Weber, Let's Get Lost, which will be screened on Sunday in Piazza Maggiore as the great closing event of the festival.
Nice girls don't stay for breakfast and Let's Get Lost are two deeply connected projects, as it can be inferred from Weber's words: "Chet's film was my Harvard and my Marine bootcamp – it got me ready to make a film about the original bad boy of Hollywood, my pal Bob Mitchum".
Let's Get Lost is a documentary that is almost 30 years, shot by a very young Weber, who was moved by an intense passion for Baker's jazz. A rarely seen documentary, strongly awaited and desired by the enthusiast audience. At the question on how will he react to the projection of one of his first works on such a big screen in Piazza Maggiore, Weber replied: "I deal with every film as if it was my first. I started loving and listening to the music of Chet Baker when I was at college: I had the vinyl of Let's get lost with me and the girl who became my wife, who is also the producer of the documentary, had that same record. I can say it's a project representing a great commonality of affections."
Weber also took the chance to share an irresistible story about Let's Get Lost, as a comment to Baker's natural attitude in front of the camera: "The first thing we shot was Baker performing Blame it on Youth, we were shooting in a hotel in Santa Monica. As the performance ended Chet started telling us the story of a trip he made with his father from Oklahoma to Santa Monica. We immediately realised that the sound wasn't good, there was a buzz. So we asked Chet to stop: we couldn't continue and we had to re-shoot the whole scene. So that's how he responded: 'I can't do the same thing twice, I am a jazz musician.'"
Today's meeting it has been an intimate and sincere journey around Weber's visual universe as well as the occasion for a fascinating reflection on the indissoluble bond between photography and cinema.
"Being here at Cinema Ritrovato is a wonderful experience: one can really feel a strong awareness in regard to the heritage of cinema and this is something that is missing in the US. For example, when they ask me what's my favorite film I reply Visconti's Rocco and his Brothers. Often people don't know the name of Visconti. Not long ago I met Isabella Rossellini, who is a friend of the Cineteca, and we started talking about cinema; somehow we naturally ended up speaking about photography. When I did my first film I actually started with a photo session. Also in the documentary on Mitchum I used Photography quite a lot."
To greet Weber there was also the director Gianluca Farinelli, who paid honor to his art with the following words: "When Bruce arrived here at the festival the other day, we saw him in the main square with his legendary camera, and it seemed like a whole film crew at work. I think it's quite clear that when he takes pictures he is making cinema, as we know cinema was born from photography, from the Lumiére brothers and it seems to me that when he is doing cinema he directly draws from the origins of this art."
Claiming he is not always good at speaking about his own art, Weber took from his pocket a piece of paper and read a part of a book he had written many years ago, which he "re-found" right here at the library of Cineteca: "This is a text I wrote many years ago and I really want to read it to you: 'Sometimes I find myself in my tree house and I start thinking of all the people I photographed and I wonder what is happening to them. I ask myself if the marine soldier went back home from war, if that man got out of jail or if that young man who was the captain of a football team managed to win the championship. A while ago Diane Arbus told me that when you photograph somebody, that person will be next to you, yet always fragile."
In closing Weber thanked the Cineteca with a very appreciated comment: "Thank you so much for what you do, for giving us such a great amount of visual and emotional themes and for making us not only watch the past but most of all for making us live in the future."
Laura Di Nicolantonio, Corso di Alta Formazione redattore multimediale e crossmediale della Cineteca di Bologna.
Foto di Margherita Caprilli.