Time to dance… at Il Cinema Ritrovato 2022!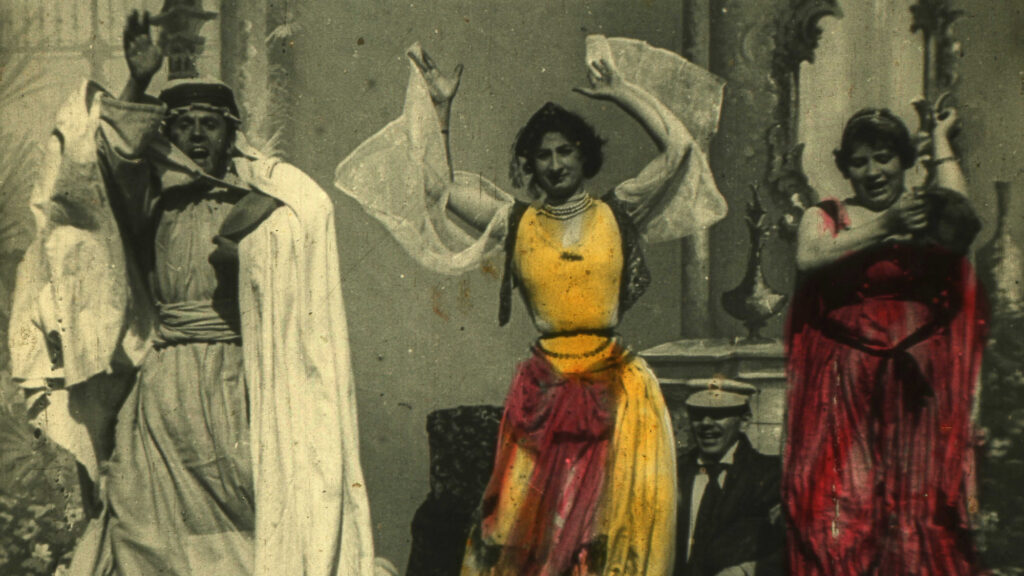 "We should consider every day lost on which we have not danced at least once," said Nietsche. We took him at his word and at Cinema Ritrovato this year you will come across films which will make you laugh, make you cry, move you and entertain you… but above all, films that will make you want to dance!
The seductive two-step that stands out in the main image of this edition is that of Stefania Sandrelli and Dominique Sanda in The Conformist (Italy-France-West Germany/1970), a film directed by Bernardo Bertolucci that will open the festival in Piazza Maggiore on Saturday 25 June at 9.45 pm in the presence of Sandrelli herself.
Getting onto our time machine there is no shortage of other examples in film history of uninhibited and surprising dance scenes. Such as that of the fairy protagonist of La fée aux étoiles (France/1902) that we can admire projected by the magic of the coal lantern in the romantic setting of Piazzetta Pasolini, or alternatively in the cinema shown with a fragment (in colour) of Tunisian dances from the same year and five Lumière screenings showing the Cakewalk, a dance of African American origins presented for the first time in Paris in the 1902-1903 season. A few years later (1911) the film La Danseuse de Siva, a jewel by Albert Capellani with Stacia Napierkowska, was considered lost until recently.
Or we could combine time travel with a journey into space and fly to the Weimar Republic to discover the dances that characterise the joyful musical comedies of the time, a glimpse of what German cinema could have been if Hitler's rise hadn't devastated the industry and genre carried out largely by Jewish artists and producers.
And then there is Sophia Loren's wild dance in Dino Risi's Pane, amore e… (Italy/1955). Or the colourful group dance in Až přijde kocour (Czechoslovakia/1963) by Vojtěch Jasný. Or the elaborate choreography in Carmen (France-Italy/1984) by Francesco Rosi. Or – we couldn't not mention this – one of the dance films par excellence: Singin' in the Rain (USA/1952) directed by Stanley Donen and Gene Kelly.
And if it is true that the slow Waltz by Sandrelli and Sanda opens the festival, it is always a couple of dancers (in a certain sense…) who are entrusted with the task of closing it: John Belushi and Dan Aykroyd. In fact, on Sunday 3 July, John Landis himself will present the extended version of his The Blues Brothers (USA/1980) in Piazza Maggiore, which will also be screened simultaneously in all of the other cinemas of the festival. There will be dancing, we can promise you!
Not enough for you? No problem, because the list of films above is far from exhaustive. To discover them all explore the festival programme, and learn it off by heart.
Film by film. Scene by scene. Step by step.