GUIDE TO ATTENDING IL CINEMA RITROVATO
You can attend the festival by purchasing one of the existing types of Festival Passes. Although some passes come with certain privileges over others, any type of festival pass would give you access to festival venues and screenings for the entire duration of Il Cinema Ritrovato.
After purchasing the Pass, you'll receive a unique code that will be needed for booking your seats in advance, subject to availability. The ticket booking system will be activated in early June. You should be able to book your favourite screenings in advance.
If you don't have a festival pass but still want to attend some of the screenings, depending on availability, some tickets will go on sale which can be purchased online or at the Bologna Welcome, the tourist office located in Piazza Maggiore. Bologna Welcome's opening hours are Monday to Saturday from 9:00 to 18:30 and Sundays and banks holidays from 10:00 to 16:30.
Access to the Piazza Maggiore screenings is free. However, subject to availability, the accredited festival attendees will have priority access to a reserved area in which they can claim a seat no later than 30 minutes before the start of the screening.
____________________________________________________________________________
CHOOSE YOUR TYPE OF FESTIVAL PASS
STANDARD PASS: €120.00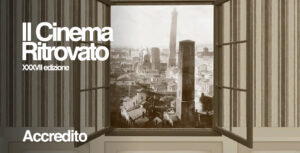 ANNA MAGNANI FESTIVAL SUPPORTER PASS: €250.00
VACANZE ROMANE FESTIVAL SUPPORTER PASS: €500.00
DISCOUNTED PASSES: €60.00 Discounted Pass (see the section marked below with * to check who can apply for this reduced fee pass)
DISCOUNT "BOLOGNA" AND UNIVERSITY STUDENTS PASS: €30.00 (see the section marked below with ** to check who can apply for this reduced fee pass)
PRESS PASS: €20.00
To request press accreditation, write to cinetecaufficiostampa@cineteca.bologna.it, indicating the publication or outlet for which you would cover the festival.
YOUNG PEOPLE PASS: €15.00 (for young people aged 13 to 19)
(Enable a higher resolution on the tab by switching to a new sheet after right clicking).
____________________________________________________________________________
WHERE TO BUY YOUR FESTIVAL PASS
Online: the easiest way is to buy it online at festival.ilcinemaritrovato.it until 1pm on Wednesday 21 June
The festival's guest office:
You can also buy it in person, starting from June 23, with a slight increase in the price.
Standard Pass: €130.00
Discounted Pass: €65.00
Discounted "Bologna" and University Students Pass: €35.00
Press: €25.00
Young People: €20.00
(Supporter Pass will not be subject to price increase if purchased at the guest office)
All festival passes –either Standard or Supporter – should be collected at the Guest Office (located in Cinema Lumiere's Renzo Renzi Library, Piazzetta Pasolini 3/b). The opening hours are:
June 23- 30: From 9:00 to 18:30
July 1: From 9:30 to 13:00 and again from 15:00 to 18:30
July 2: From 9:30 to 13:30
WHO CAN PURCHASE FESTIVAL PASS DISCOUNTED RATE
* The Discounted Pass is for people who are:
over 65, teaching and non-teaching staff of the University of Bologna, employees of the Municipality of Bologna, Tessera Arci, Auser, Carta Effe, Alliance Française de Bologne, Italo-British, Hispania, Istituto di Cultura Germanica, Italo-Spanish La Regenta, Modern English Study Centre, British School Bologna, Tper annual season ticket holders, Bologna Libraries, Fondazione Musica Insieme, Teatro Arena del Sole, Teatro Comunale season ticket holders, Casalecchio Teatro Card, Bottega Finzioni, Primo Levi University, Illumia employees, Lloyds Pharmacy employees and customers, Associazione I Trovatori, Ancescao, Fai, Fai Giovani, Touring Club, Igersitalia, Legambiente members, Bologna Airport employees, Cineforum and Film TV subscribers, Members of the University Council of Cinema, AIACE Turin, holders of the Trenitalia Tper regional ticket for Bologna.
** The Discounted "Bologna" and University Students Pass is for people who are:
residents of Bologna and its province, UNIBO students,  and students from other universities, friends of Cineteca, Bianco e Nero supporters of Cineteca, holders of Card Cultura, Card Genus Bononiae, Museums in the City
When collecting the festival pass purchased at discounted rate, it is necessary to show a valid document which would confirm that the reduced rate is applicable.
Please note that all festival passes are non-transferable and for personal use only. They're also non-refundable
THE KIDS PASS
The Kids Pass, for children up to 12 years of age, allows access for one child and one or two accompanying adults to all the screenings and workshops across the Kids section of Il Cinema Ritrovato. Reservation is needed and subject to availability.
The accreditation for children can be purchased at Sala Cervi for €10 (reduced to €5 for holders of the Schermi e Lavagne 2022-2023 card)